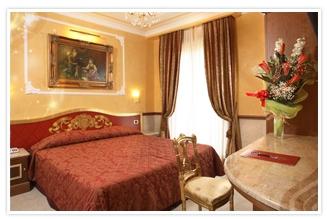 In the heart of Rome, near the splendid Via Veneto lies the Hotel Principessa Isabella, a high-class 4-star structure situated in the historic centre of the city, in a strategic situation close to Piazza di Spagna, Villa Borghese, Fori Romani, Colosseo and Fontana di Trevi.

The hotel offers to its guests a tranquil situation, characterized by accurate ambiences of classic style, prestigious furniture and optimal comforts and services. Here, you can find every modern comfort that is perfectly joined together with the ancient tradition of the structure and a classic and romantic atmosphere.

Moreover, the Hotel Principessa Isabella enjoys a strategic situation: the most beautiful monuments of the imperial Rome are all located close to the structure.


In addition, the most important stations of the capital, like Termini, Tiburtina, Prenestina and Tuscolana are all easily reachable, as well as the Fiumicino Airport.

For that reason our structure is perfect for every kind of guest, from tourists that want to visit Rome and its most important monuments, to the business men that from here can easily reach every place of the capital.

The check-in is from 14.00 while the check-out is until 12.00. The breakfast is served from 07.00 to 10.00.